Sneak Peak at 2017
Posted by Ryan Sanders on
With our recent post about what to expect from us for the rest of 2016, we thought we would now turn a little attention to our January 2017 lineup to give you our readers a sneak peak into the new year. 
Starting in 2017 we will be trying something new at Button Shy Games. We are stopping the monthly Kickstarter and moving to a quarterly Kickstarter. Our quarterly Kickstarter will feature 3 games at once (so we will still be offering 12 games a year through KS). Backers will be given the option to back anywhere from 1 to all 3 of the games.

So a quick overview of what we are offering (with some preview art/sketches) looks like this: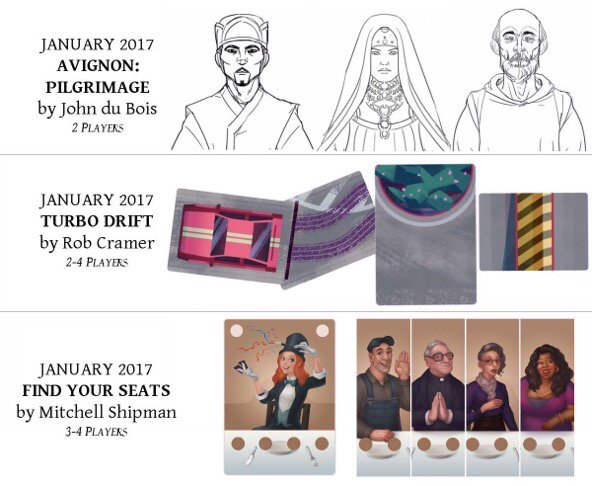 The little more detailed overview looks like this:
Avignon: Pilgrimage by John du Bois (2-players)
We are re-visiting one of our most popular games and giving it an all new stand-alone expansion in Avignon: Pilgrimage. That's right if you enjoyed the first Avignon and want a new mix of characters or brand new and want to try an Avignon game for the first time - this game is for you. Avignon: Pilgrimage will be offering 6 new characters with all new abilities. Not only that but we will be including alternate setup options that add additional strategy and tactics while still preserving the quick, accessible game play of the original Avignon game.
Turbo Drift by Rob Cramer (2-4 players)  
R-R-R-R-Race toward the finish line at ludicrous speed! In Turbo Drift, you must make your way through an analog racecourse full of obstacles by drafting movement cards from columns or rows or even pushing-your-luck and try to use all the movement cards. Turbo Drift will make a big presence on your gaming table with obstacle cards and nitro-infused gameplay, yet small enough to put in your pocket for some lunchtime gaming.
Find Your Seats by Mitchell Shipman (3-4 players)
In Find Your Seats, players take the roles of party planners having a terrible day.  They have completely misplaced their seating plan!  Each player will start with a hand of cards representing dinner guests and, over three rounds, draft what they believe to be the best group of guests to sit next to each other. Players score points based on the seating arrangement of their guests.  The player with the most points in a round wins the round, the player with the most round-wins will win the game. Find Your Seats came in 2nd place in our Button Shy Wallet Game Contest.
So all-new Avignon in the standalone expansion Avignon:Pilgrimage, a racing game in Turbo Drift, and game of drafting guests to be the ultimate dinner planner in Find Your Seats. Which will be your new favorite game? Come join us on the Kickstarter in January and tell us in the comments section.
Before we go, we thought we remind you that our next game, Ahead in the Clouds will soon be on Kickstarter (beginning this coming Tuesday, October 4, 2016).  Ahead in the Clouds is our new 2-player resource management game that takes place in the skies above. As we close, we thought we would share this cool overview/commercial video that DiceBreakers made for us.
Until Next time - Happy Gaming,
Ryan and the Button Shy Games Staff
---
Share this post
---
---