What We Have Lined Up for the Rest of 2016
Posted by Ryan Sanders on
Good Morning! We hope this blog post finds you all well. We here at Button Shy Games, thought we take a couple minutes and tell you about what our plans are on Kickstarter for the rest of the year. The quick overview is this: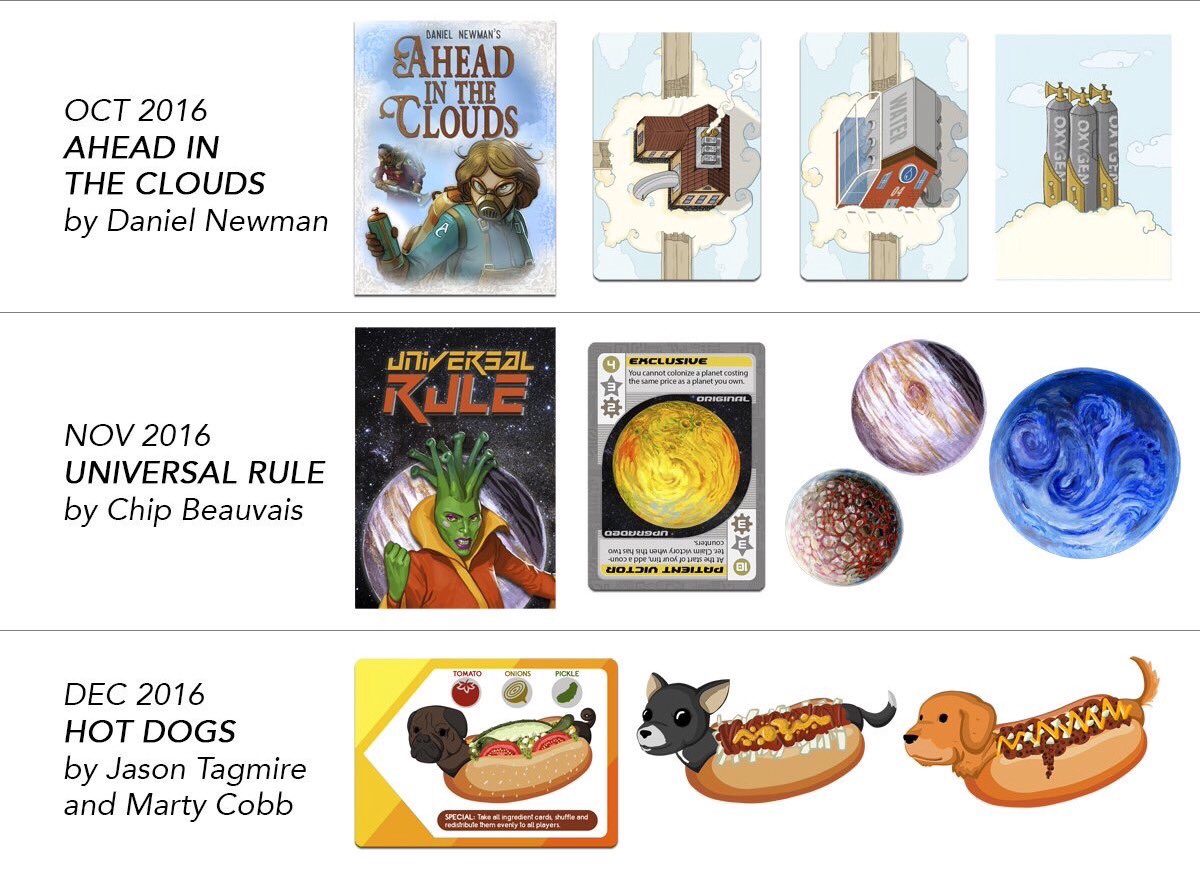 A little more detailed overview is this:
In October we have planned Ahead in the Clouds. A 2-player game, by up-and-coming designer, Daniel Newman and art by Bryan Fischer. Ahead in the Clouds, will be our first game in our Wallet Games Series to use components outside of just the cards. It is a very Euro-inspired game where players will be converting resources to suit their needs. It also has a really cool theme of being industrialists that are collecting dust particles from the air and water vapor from the clouds to convert to hydrogen and oxygen.
In November, we are going to outer space with the 3-5 player game, Universal Rule. Designed by Smoke & Mirrors creator Chip Beauvais. Like Ahead in the Clouds before it, Universal Rule will use more than just cards. In Universal Rule players will battle for control of the universe in this pocket sized 4X style game. On your turn you can take one action and colonize new planets, or explore new areas on those planets, gain credits based off of the resources that the planet produces, or attempt to destroy other planets that threaten your existence. If other players pay you credits, they can do the same. The most influential player at the end of 8 rounds wins the game. 
A special note to those Twin Stars collectors out there. This may be a good Kickstarter for you to watch. In fact, here is a little preview image:

In December, Button Shy's head honcho, Jason Tagmire is back to designing with Hot Dogs. This project will reunite him with Wild Cats artist, Marty Cobb. Hot Dogs is a fast-minded dexterity card game for 3 to 4 players. In Hot Dogs, players will race to complete Hot Dog recipes to gain special powers and score points.
We hope you all find something that interests you in this coming line-up. For those of you at home that have a Board Game Geek account, you can find a brand new Button Shy Wallet Games Geeklist there. For any Button Shy fans out there, this will be a great list to subscribe to as we will continue to update it with our new wallet games as they get approved into  BGG's system. 
Until next time - happy gaming, 
Ryan and the Button Shy Stafff
---
Share this post
---
---