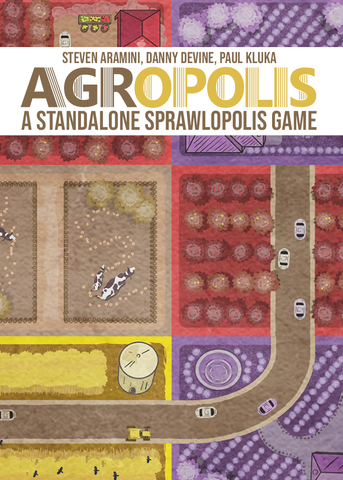 Agropolis
NOTE: for UK shipping, please order here:
https://buttonshygames.com/products/agropolis-uk-only

For Sprawlopolis and its expansions, click here.
For Naturopolis and its expansions, click here.
For Combopolis expansions, click here.

Leaves whispering, chickens clucking, tractors rumbling, the sounds of a bustling farm are everywhere. The countryside is blossoming and you are in charge of it all. The last team of planners couldn't cut it, so the farmers turned to your team, the best of the best. If anyone can turn this little farm into a flourishing ranching community, it's you!
Agropolis is a standalone Sprawlopolis game. What does that mean? Well it's more of what we built with Sprawlopolis, but instead of more cities, it's farms. It adds a few new twists (livestock and feed fees), and can be played on its own or combined with Sprawlopolis in a fun new way. 
Players: 1-4

Length: 15-20 minutes

Ages: 8+
CREDITS
Designed by Steven Aramini, Danny Devine, Paul Kluka
Art by Danny Devine
VERSIONS
Agropolis Wallet Game: $12
Agropolis/Sprawlopolis Combo Expansion, Combopolis: $4
Agropolis: Invasion and Points of Interest: $2
Agropolis: Seasons $4
---
We Also Recommend