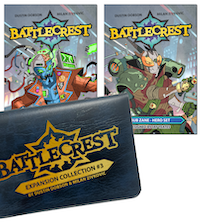 BGotMC Battlecrest Year 2 Heroes Upgrade
A special item for our Board Game of the Month Club members whose subscription includes a wallet game.

To receive the 2 Heroes, Griyan and Mub Zane, and the Expansion Collection #3 wallet in the same package as the Battlecrest: Metronn Base Game with Imperator II expansion, purchase this item. Griyan, Mub Zane and Imperator II will be packed together as Battlecrest Expansion Collection #3.
We will link your order here to your Board Game of the Month Club subscription so that they ship together. If you use a different name or email address at Patreon, please include it as a note on your order.

NOTE:
Please do not add anything else to this order as we cannot send other items with your club package. This is not eligible for club discounts as it is not a full wallet game.

---
We Also Recommend