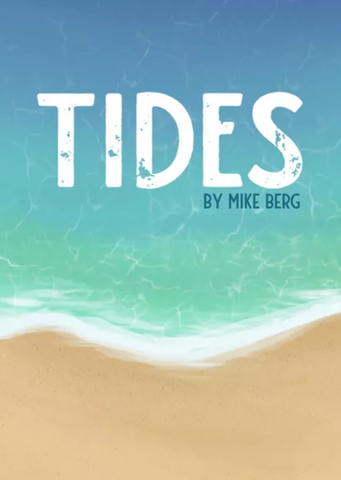 Tides (UK Only)
NOTE: UK shipping only. For all other destinations, please order here:
https://buttonshygames.com/products/tides

Take a stroll along the beach. Feel your toes digging into the sand. Discover a world of beautiful objects just waiting to be found. Whether you're picking up driftwood for your sculptures or sea glass for earrings, let Mother Nature be your muse as you follow the tides.
Tides is a game about collecting items from a beach. The goal is to score as many points as you can by making the most interesting sets of items. The tide is always changing; you never know what you'll find on the beach!
Take cards from the row during LOW TIDE to collect items from the beach. During HIGH TIDE, flip the double-sided cards; the back side has scoring conditions. Score a set in either LOW or HIGH TIDE, by combining items you collected with a scoring card. Play until someone reaches 50 points. Finish the current low tide/high tide cycle. The player with the highest score wins!
Players: 1-2
Length: 20 minutes
Age: 8+
EXPANSIONS
Fun In The Sun (3 cards with Special Abilities)
The best finds aren't always on the surface. Take a few moments to dig and dive for buried treasures that will make your art pop.
Shuffle these 3 cards into the deck to give some new special abilities. If you have any of these new card abilities in your hand, you may use the special ability as an action during the required Tide Phase. Once used, discard the card.
CREDITS
Designed by Mike Berg
Art by Marty Cobb
VERSIONS
Tides Wallet Game ($12) - base game packed in a vinyl wallet

Fun in the Sun Expansion ($3) - three card expansion packed in a card sleeve

---
We Also Recommend